70.3 Dubai: A last minute decision By: Alex Diaconu, RO PRO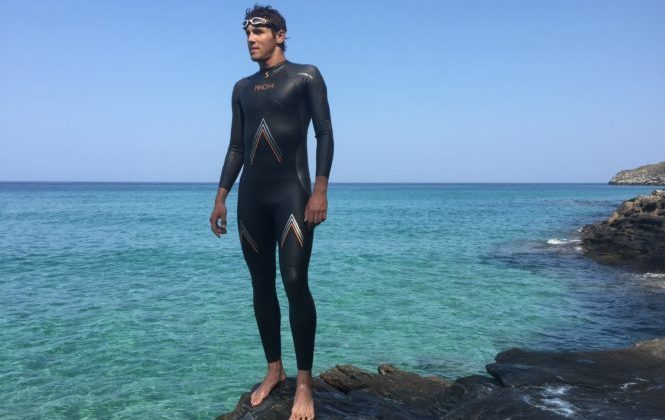 March 2, 2018 | By Alex Diaconu | Race Recap
70.3 Dubai: A last minute decision By: Alex Diaconu, RO PRO 
The decision to race Ironman 70.3 Dubai came with only 7 weeks to go due to the crazy hot winter weather, in Romania. Usually, it is -15 C with lots of snow, but this year, it was +5! ….. so after 6 weeks of no cycling but a lot of running, I started to do 120k+ rides every 2 days, so I could establish some base mileage. 
The first week in January the weather began to change and I moved on my hometrainer where I applied a new method of training for my " reverse periodisation". This way, I managed to increase my bike speed specifically for this race.

For the swim I have a natural talent. Actually, swimming was the first sport I took up, at 16 years old. I don't much that much in swim training since a few years ago when I raced ITU. Even in times, when I have a lot of work with my business or I don't have time to swim I just swim on hour 3x a week and I am good to go!
For me, triathlon is a way of life and an eternal competition with myself. To be quite honest, although I do lots of olympic distances every year, I am in love with half Ironman and Ironman races and to love to challenge myself how fast I can get to the finish line. Even though I kind of love to be on the podiums, I don't pay that much attention to the rankings, just to the time that I have at the end!
Since I never raced in February, I didn't know what to expect from this race.
The swim practices were ok, the running was better than ever ( I did with 3 week prior the race a 3x5km intervals all sub 18'30" and with 6days to go 3x1k all under 2'50") which gave me a lot of confidence. The only missing piece of the puzzle was the bike where I had lots of doubts due to the missing mileage form the season start. But sometimes, it is better to go head first without thinking to much.
So I got to Dubai with 5days to go where I did some easy trainings and got a proper rest. Back home, I often don't get as much sleep as I want. At the start line, my only goal was to leave it all out there and to try to go under 4h23′, which was my personal best.
At the swim, everything went ok in the first 500m. I was swimming 1'14″/100m, but after we got into open water where the waves were 3-4m high, I couldn't see the turning buoys at all.
It was my second hardest swim ever, but I managed to get out in 28'24 and after a fast transition, off to the bike.
The course was 45k out on an easy uphill with heavy head wind and 45k back, on a downhill road and tail wind :)!
At the 12k mark I lost my bottle with nutrition due to a speed bump. I raced solely to my powermeter, watching not to burn out. Since I lost my nutrition, I went a little crazy at the first aid station. I took everything that I could and later I kept only what I needed. At the end of the bike, I went a bit easy with a bigger cadence so that my legs could have a chance to recover and prepare them to run.
The splits for the both 45k were 1h19′ with 1h03′.
In to the run, I was taking it slow at the beginning since I did only one birck as preparation. Here everything went smooth! I was focusing only on the tehnique, nutrition and keeping my body cool with cold water sponges. Honestly I didn't like the run that much because it was not on pavement but on a smooth and fluffy track material (tartan ). At the end I crossed the finish line in 4h20'12" with a 1h23′ half-marathon, where I managed a negative spilt!
Allthough I should be happy that I have a new pb in february, I am a bit dissapointed with the swim and run time where I was aspecting to go a bit under 26′ and a bit under 1h20′. But….I had a great race and a good story to tell. 🙂