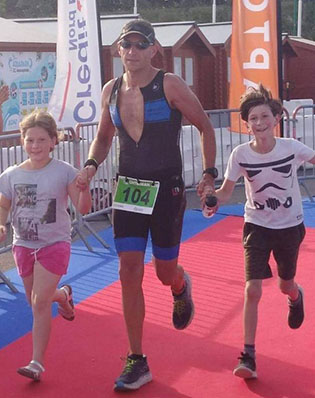 Country: Belguim
City: Herk-de-stad
Race Distance: Full distance combined with some shorter distances.
Year: 2019.
2019 Goals: Bilzen 111 (1/100/10 in Belgium)- Triatlon Bonn (3,8/60/15 in Germany) – Almere full distance (3,8/180/42)
Why I Dare2Tri:

I started triatlon about 4 years ago, triggered by one of my neighbours who was already doing this beautiful sport. You can call it a way to avoid a midlife crisis and instead of buying a motorbike or something like that I  used the  competitive edge I always had and  started with triatlon. it has given me the perfect outlet to channel my energy into being the best athlete and person I can be. The bonus is getting to connect with so many amazing like-minded athletes who have become good friends.
After a few years I can absolutely say that Triatlon is fun!  It makes me physically and mentally fit and builds self confidence by challenging yourself to the limit.