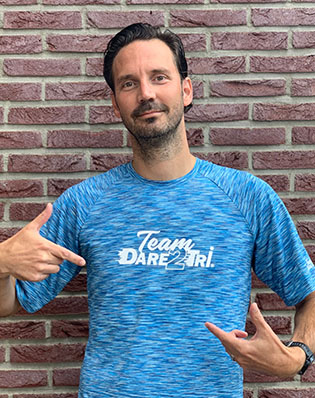 Country: Netherlands
City: Capelle aan den IJssel
Race Distance: Olympic distance / Middle distance.
Year: 2019.
2019 Goals: Finish in the top3 of an open water swim event. Set a strong race at the Challenge Almere Amsterdam MD. Keep improving my running and cycling. Having fun any time any race!
Why I Dare2Tri:

My passion for triathlon arose after participating in an Olympic distance in Rotterdam in 2016. How cool to swim, cycle and run through this city. The combination of these three sports is really fantastic. I am originally a swimmer and had zero experience with running and cycling. But I motivated myself to train and in 2018 I completed my first middle distance in Almere. My goal is an Iron Man, but first I want to become better and stronger in cycling and running. The great thing about this sport is that it's not about beating the rest, but the win over yourself. Every time you reach the finish is such a fantastic feeling. Great to be part of teamdare2tri this year. That motivates me even more to train harder and to achieve good results!