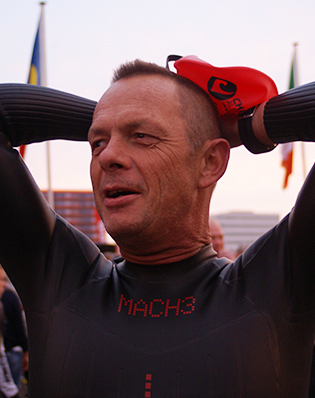 Country: Netherlands
City: Ravenstein
Race Distance: Long Distance.
Year: 2018.
2018 Goals: Marathon Rotterdam. Go for PR under 4 hour. Ironman Barcelona 70.3 Long course weekend Wales Challenge Amsterdam Almere long distance. Go for a PR under 12 hour.
Why I Dare2Tri?

I like the sport. When I was young, I was already did 2x Challenge Almere or then, named, Holland Triathlon (1993 and1994). Then came kids and I needed to travel for work, making it difficult for me to do sport. 19 years later, my son wanted to watch a triathlon race, so I took him to where it all started for me, Challenge Almere. When I was there my body started speaking to me, saying I want do this again. It is something inside you that you can't stop!! So in 2014, I was there again 20 years later. After that day, triathlon is again a part of my life. It is wonderful to be married and have kids. My family supports me everywhere.
I may not be a pro, I may not be quick, but I enjoy the race and personal battle! I am so proud and surprised to be chosen as a Team Dare2Tri athlete. I was already swimming in the Mach 3 and has some accessories from Dare2Tri. The service they give is one of the best I ever get received. Also the contact is very friendly. I like the the Strava Dare2Tri Triathlon club and the facebook page. We can share and keep in contact with each other. One more time, thank you for selecting me. I am proud to be an ambassador of your brand. Wish you all a successful 2018 and good health!