Q&A with Dare2Tri French Pro Denis Chevrot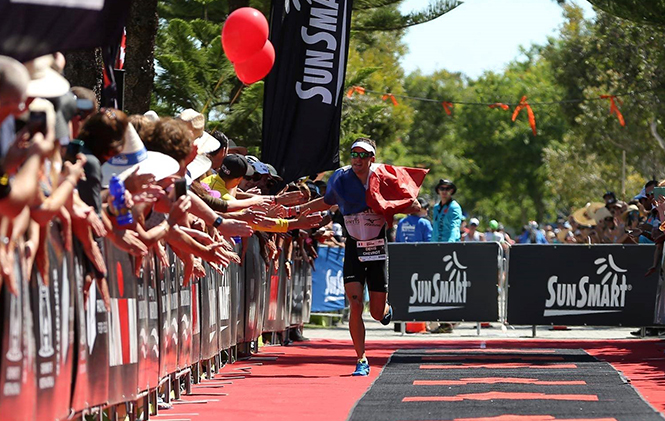 February 2, 2018 | By Brooke Brown | Q&A
Q&A with Dare2Tri French Pro Denis Chevrot
Age: 29
PR: 8h05
Top Results: 1 Ironman and 4 Ironman70.3 win
Sponsors: Look/Compressport/Traithl'aix/High5/Corima/Dare2tri/Mizuno/Bont Cycling/Continental/
How did you get into the sport? Please include which was your first race? How did you feel? Result?
I got into the sport because I want to race, and finish, an Ironman. At the summer 2010, I registered for Ironman Regensburg, in August 2011. I started training in November 2010 until the dday. I did a great race for my first IM, I finished 23rd scratch and first of my AG.
What is your strength in the sport? How do you use this to your advantage in the race? (Swim, Bike, Run, Nutrition, Mental Toughness, etc…)
My best leg is the swim part. But you don't win a race during the swim. It helps me to start the bike in good condition. The run leg is also a strength for me, I know that 90% of the time I will run fast and it makes me confident.
What is important in a wetsuit for you?
Flexibility!! I want to do the same movements that I usually do without wetsuit.
What is your first race of the year?
My first race will be "l'aquathlon de Saint Etienne", the first big race will be 70.3 Aix en Provence mid may.
What are your goals for 2018?
During the first part of the year, I want to qualify for Hawaii. I hope the second part will be dedicate to Kona…
What is your favourite race profile? Example.. flat/windy? Hilly/cold? Hot/and tough?
My weight is 75 kilos, so I prefer when the bike leg is not too much hilly. I have
Do you have any winter/spring training tips for Team Dare2Tri?
At this time of the year, it is important to "work" on the base: technique, spinning on the bike, slow training, general physical body training.
What is a typical training day for you?
There is no typical day for me; it is always different. It is important for staying focus all the year.
What are your interests outside of training?
I also train seven athletes and beside that I don't have a lot of time. I like read, watch movie/series,…
What is your go-to breakfast race day morning?
I always eat rice with jam and a small coffee. Flavor for the jam doesn't matter.
What do you like to treat yourself with after a big training day and/or race day?
After a big training day, I eat, drink and do some stretching. I prepare my stuffs for the day after, I stay calm to recover fastly. After a race, I often want to it fat, so I do…
Why do you Dare2Tri?
I dare2tri because I lot foods so much and three sports is just enough to burn calories