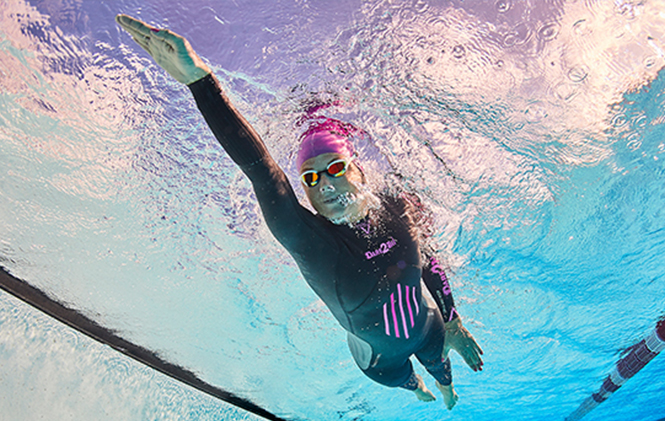 June 15, 2018 | By | Nutrition
100 meter PB Challenge
Now that the majority have received your wetsuits, we invite you to do our 100 meter PB Challenge.
We asked swim coach, Frank Huisman, founder of Tri Experience to help us with a protocol which can help you towards your PB in your new MACHV.5
Follow the protocol below and share your results with us and the world via your social media. Snap some pics, make a video or make a blog about your testing. Be sure to use the hashtags: #PBChallenge #PBGuaranteed #MACHV5 #Dare2Tri #TeamDareTri
Give it a try…and GO FOR IT!! You may just suprise yourself 🙂
Warm Up:
2x (100 freestyle (fs) long stroke + 100 fs pullbuoy) all easy 50-60%.
Build 1:
6x 25 fs kick w board/ 10sec rest. Start easy pace, each following 1 sec faster.
Recover: 100 fs pullbuoy easy.
Build 2:
8x 50m fs / start every 1min
Start easy, each following 2 sec's faster.
Recover: 100 fs pullbuoy easy.
Prep set:
4x (25m acceleration* 75 to 95% + 25m easy recovery+ 30sec rest.
4x (25m sprint* all out + 25m  easy recovery+30sec rest)
* for accelerations and sprints let your kick drive the pace!
NB: If you will do the 100m test with a dive start, then also dive start
the accelerations and sprints.
2 to 3 mins full rest
Test: 100m all out