PRO CORNER- Q&A with Ewa Komander POL PRO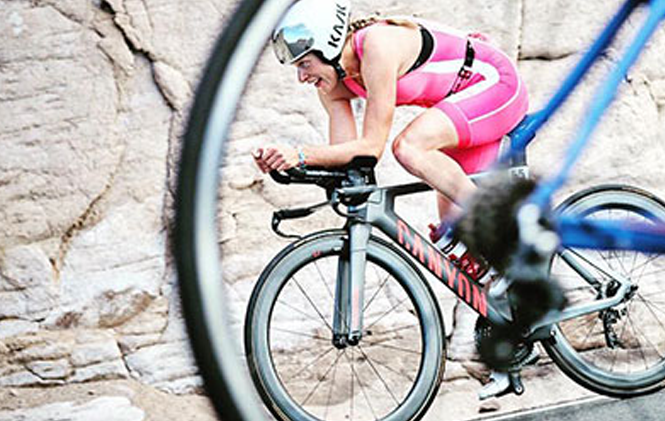 May 4, 2018 | By Brooke | Q&A
PRO CORNER- Q&A with Ewa Komander POL PRO
Age: 33
PR:4h21 Half Ironman
Top Results: 1th place European Cup Karlove Vary 2010, Polish Champ 2015 half Ironman,  2ND place Ironman 70.3 Gdynia 2016, 2 th place Challenge Gran Canaria 2018
Sponsors: westsuit supporter Dare2tri, (looking for sponsors 🙂
You are Polish living in Girona, Spain. What made you move to Girona? What are some of the training benefits?
I came to Girona with my boyfriend, Juan. Girona is the perfect place for us. Juan had lived here before and told me how great the training was. Since it was the perfect location for his job too, it was an easy decision.
The training here is perfect. The cycling roads are amazing, there are running trails right in the city, and there is an outdoor 50m pool. There is even a lake to swim in close by. The weather is also very good for training. You can train outside even in the winter here.
It's a very athlete-friendly city. There are also a lot of triathletes and even more cyclists so there are always people to train with and new people from all over the world to meet. It's really "sport life" here.
How did you get into Triathlon? 
I swam a little bit growing up and then joined a running group. When I was about 14 years old, the running coach encouraged me to try a triathlon. I did a sprint triathlon and I liked it so I decided to stick with triathlon.
Coming from an ITU background, what made you decide to race long distance?
I was racing on the world cup circuit for Poland, preparing for the London 2012 Olympics. On 2011, just before the world cup in Hungary, I fractured my foot. I had to have surgery and it was a long recovery period. I missed out on going to the Olympics and after such a long time away from ITU I decided it was time for a change.
Tell us about your first LD experience- 
My first long distance race with Polish long distance championships. I did it on my normal road bike just to try it. I really liked it. I always struggled with the swim in ITU so I liked that I could catch up on the bike.
What is your strength in the sport? How do you use this to your advantage in the race? (Swim, Bike, Run, Nutrition, Mental Toughness, etc…)
I'll always think my swim can be better but really I'm an all-rounder. The bike is my favourite though.
Being an all-rounder, it's not one sport that is my biggest advantage, it's my experience. I've been doing triathlons since I was 14. Whatever happens, I can handle it.
You had a great race at Challenge Mogan with a 2nd place finish, how was your preparation for this race? (Just one-two weeks before you raced in Challenge Rome, how did this impact your race)?
I was just having a bad day in Rome. It was actually at the airport on the way home I decided to see if I could race the next weekend at Challenge Mogan. Luckily, I got an entry. I knew I had great prep so I wanted to try again. I'm very glad I did!
This year you will do your first Ironman, have you chosen a race yet? Do you have any thoughts you would like to share going into this? How has your training and preparation varied from half to full?
Well,…maybe. I'm considering finishing my season with a full Ironman. I'm still planning and thinking about it.
What is your favourite race profile? Example.. flat/windy? Hilly/cold? Hot/and tough?
Flay, hilly, cold, windy, hot…doesn't matter. If I'm feeling good, I can go on any course.
What are your interests outside of training?
My dog Riko. I first got him after my foot surgery. He really helped me through rehab. We started with slow short walks and gradually built up to long runs. That's why I chose a dog with part Jack Russell, so he could go running with me. He has so much energy but he also likes to sit on the sofa and watch TV.
You will be joining, Team Dare2Tri at Triathlon Vitoria, that's great news as we have a handful of pro athletes racing. What distance will you be racing and what are your goals?
I'll be racing the half distance and my goal is just to go as fast as possible.
What is important in a wetsuit for you? Do you have some feedback on the MACH5V?
Fit is most important for a wetsuit and next is flexibility. I couldn't believe how thin the arms were in the MACH5V. It makes the arms really flexible and swimming feel more natural.
I also really like the trisuit. I've used a lot of trisuits and this is the most comfortable, especially for sitting on the bike. Plus, it matches my bike 🙂