PRO Corner: Meet 2x ITU Long Course Champion Sylvain Sudrie (FRA)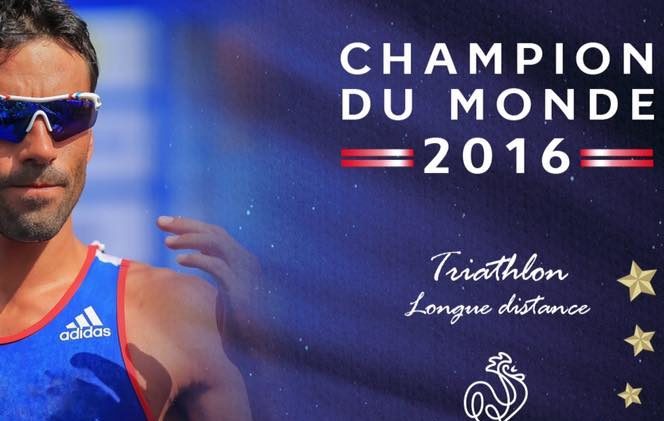 March 2, 2018 | By Brooke Brown | Q&A
PRO Corner: Meet 2x ITU Long Course Champion Sylvain Sudrie (FRA)
Getting to know Sylvain Sudrie: 35 yrs old, Gradigan, France
Sponsors: Dare2Tri, Look, Corima, Rotor, Infisport Nutrition, 7eBCA, SWIMRUN Atlantic Coast, Sardines Triathlon Marseille, Honada, Triathbreiz
Q: You've had a long career in Triathlon, starting from the young age of 16, how do you stay motivated year after year?
A: I remained motivated after all these years thanks to victories and good performances.
Q: Now of days, we see you primarily in half-iron distance races, will we see more of Sylvain Sudrie in full-distance races?
A: Yes, I will be present at Roth Challenge this year.

Q: What was your most special moment in Triathlon?
A: My first victory at the 2010 world championships
Q: What is your strength in the sport? And, how do you use this to your advantage in the race?
A: Swimming without a wetsuit allows me to distance myself from my opponents because I am a very good swimmer.
Q: What is important in a wetsuit for you?
A: Flexibility
Q: Tell us about the training camps you offer?
A: I am decided to share my 20 years of experience with triathlete of all levels. I have tips and key elements that make progress in all three disciplines. You can find all the information on my web page www.swimrun-atmanticcoast.com.
Q: What are your goals for 2018?
A: To be efficient and to be happy with my race results.
Q: What is your favourite race profile?
A: Hot and hilly races
Q: Do you have any winter spring training tips for Team Dare2Tri?
A: When the season ends, I advise athletes to focus on technical swim training and to reduce bike volume. Then from December onwards, begin with a progressive volume in all 3 disciplines.
Q: What is a typical training day for you?
A: In a typical day, I swim between 4 and 5km, run, 13 to 20km, and finish with 90 to 100km of bike.
Q: What is your go-to breakfast race day morning?
A: Not change my habits, and eat as I normally would!
Q: Why do you Dare2Tri?
A: I Dare2Tri because I have the courage to start!